Vault anywhere with Vaultdogs Elevated Wood Runways!
We have been vaulting on, building on, and creating fast elevated wood pole vault runways since 1991. Our runways are featured every summer in our Annual 4th of July Pole Vault Exhibition in Seward, Nebraska.
Our runways are known for being fast and durable. One of our runways has been used for over 20 years and is still fast.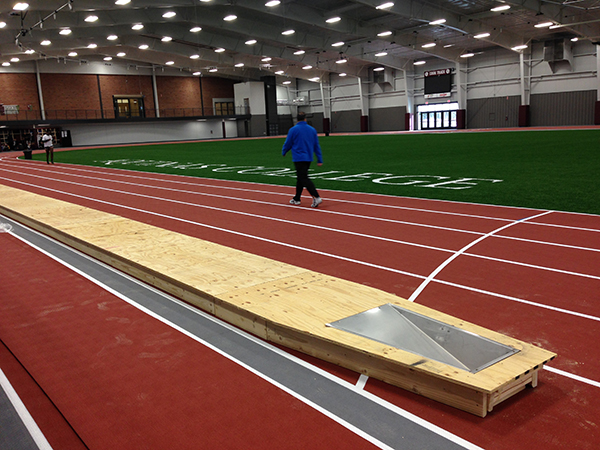 The runways are built out of Pine and have a rubber surface that can be applied to each section or as a roll-out. Additionally, we can use treated lumber for runways used mostly outdoors, but that will be a slight increase in cost due to the cost of treated lumber. The plant box is set to be a standard 20 cm deep after the 3/8 inch rubber surface is applied. Each section of the runway is 39″ wide, 8'3″ long, and stands 8″ high. See pricing for lengths and costs.
With a wooden runway, some questions always get asked.
+ How heavy is each section? ~ Being made out of pine, they are very lightweight, about 155 pounds with a rubber surface. They can easily be lifted and moved by two individuals.
+ How do they connect? ~ They are created with a tab and slot system and require no hardware to set up.
+ Do they move or slide around? ~ With the runway's weight and so much ground friction, no they don't move.
+ Do I need a box collar? ~ No you don't need one, but we recommend you use safety precautions when you pole vault and we recommend the use of a non-evasive box collar pad around the outside of the plant box.
+ Do I need the rubber surface? ~ No you don't need it, but using the rubber surface will extend the life of your runway otherwise the wood surface will get torn apart by spikes.
+ Do you deliver? ~ Yes, within a 400-mile radius, we will load it on our trailer and deliver it for a delivery fee. Otherwise, we will get LTL freight quotes and ship them at cost to you. The client will approve the shipping costs prior to the actual shipment being sent.
+ Are they difficult to store? ~ No, they require an 8×8 foot space and they can be stacked on top of each other. We stack ours in two stacks of 8 sections high, which is a little over 5′ high. Since they are made from pine, they are light enough to stack easily.
+ What is the highest someone has vaulted on a vaultdogs runway? ~ We have had multiple 19'+ vaults on our runways. The way these are designed allows for great speed and a firm platform at takeoff.
+ Why shouldn't I just build my own? ~ Just consider this, we have decades of experience building runways, they will work right away. For the first runway I built, I had to keep modifying, adjusting, and experimenting to get it right.
Runway Lengths and description
Pole Vault Wood Runways come in six different lengths to fit your space.
| | | | |
| --- | --- | --- | --- |
| Sections | Feet | Meter | Price |
| 8 | 64′ | 19.5m | $4,340.00 |
| 10 | 80′ | 24.4m | $4,665.00 |
| 12 | 96′ | 29.3m | $5.190.00 |
| 14 | 112′ | 34.2m | $5,715.00 |
| 16* | 128′ | 39.0m | $6,240.00 |
| 18 | 144′ | 43.9m | $6,700.00 |
* Add 1.2m of runway section extension to meet NFHS amp; NCAA minimum length requirement of 40m. Cost an additional $75.00.
+ Add a 16′ gradual downslope at the end of the runway with a rubber surface, an additional $280.00.
++ All runways come unpainted. If you wish to have them custom painted a solid color and feet measurements painted onto the runway, an additional fee will be applied depending upon the color, paint costs, and any custom measurement markings required.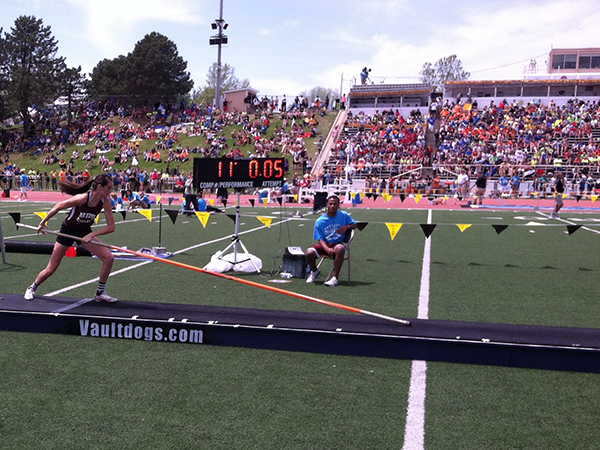 Optional items:
Standard lifted platforms, $120.00
Box Collar, based on the market value at the time of order.
Pit lift platforms, raise the landing mats to the same level as the runway surface. Prices vary on the size and make of your pole vault mats.
Runway Order
Ordering your runway is pretty simple. Just email Jason Berry at jason@vaultdogs.com with your phone number and a brief message and he will call you and can discuss your runway needs.
The runways can be shipped by third-party shipping. We can also deliver your runway to you for a fee. We like road trips!
Since the runways are custom built, we have a window of time, usually, 30 days, in which we can build the runways.